Helgstrand Event is hosting the 4th Danish Dressage Championship in a row, and today, it was kicked off with Prix St. George and the first selection for the prestigious World Championship for Young Dressage Horses. Although the calendar says June 2nd, it wasn't exactly summer weather and the horses were a bit overwhelmed by the strong wind.
Helgstrand in top-3 in Prix St. George
Helgstrand dominated today's KASK Prix St. George presented by Supervin, where Marianne Helgstrand on the 8-year-old Sezuan son (damsire Sandro Hit), Elverhøj's Raccolto went straight on top of the leaderboard scoring 71.842%. Closely followed by her son, Alexander Helgstrand, who rode Belantis (Benetton Dream/Expo'se) to a 70.307%. In third place we have another rider from Helgstrand, master rider Michael Grønne Christensen, who finished 3rd with 70% on the 8-year-old mare Atterupgaards Miley by Att. Seebach/Lord Sinclair.
Marianne put some words to her test today:
- I'm super happy with the ride on Raccolto today. He was with me all the way. However, we had some smaller errors, one I the beginning as he didn't want to stand still, and then in the tempies. He can be a bit fresh, but he was really listening today, and that just made for a really good ride, says Marianne Helgstrand.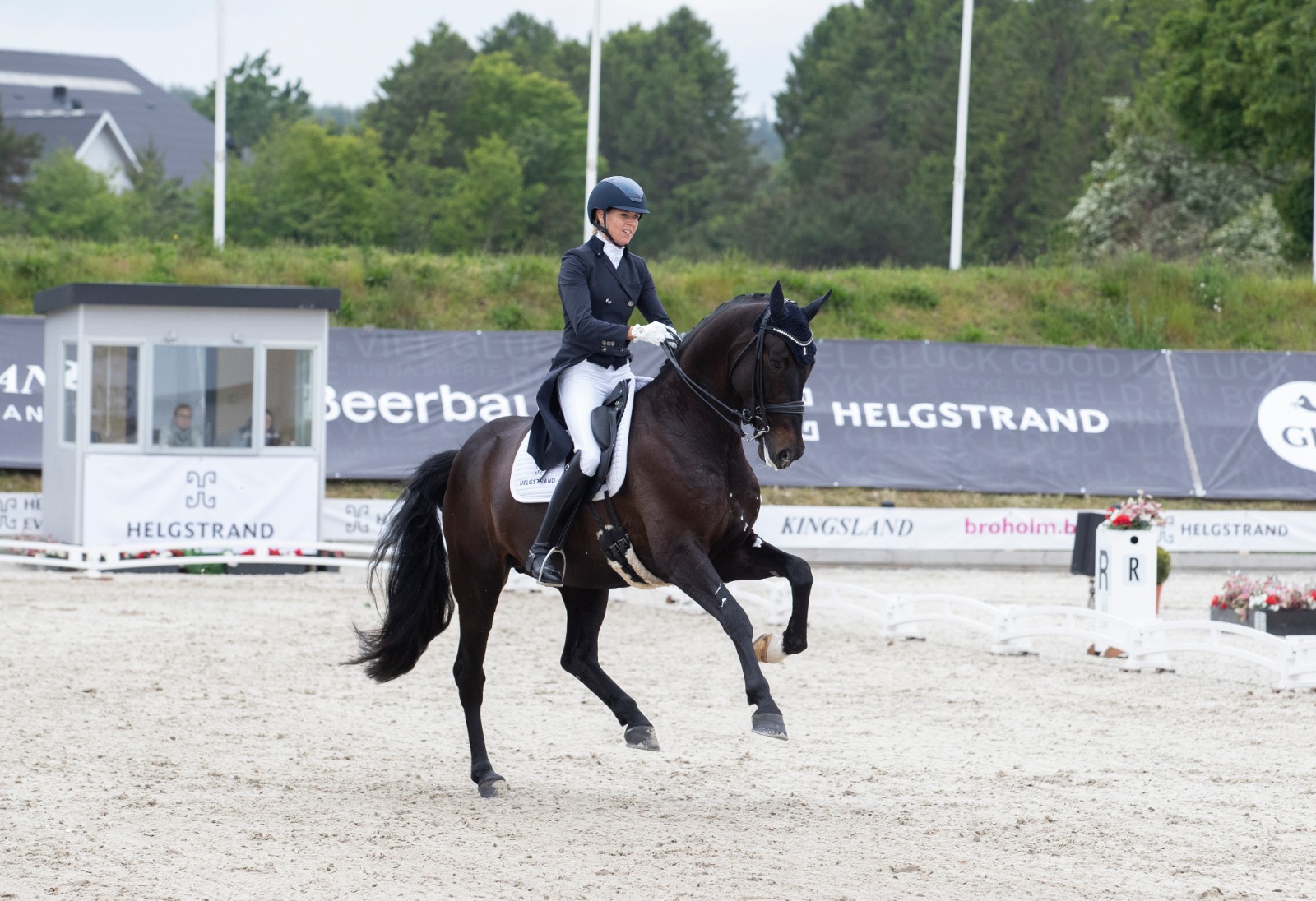 32 combinations in the WCYH qualifier
A total of 32 Danish-bred horses were today presented in the qualifier for the World Championships for young dressage horses. The World Championships take place from 8-11 September, moving back to Ermelo in the Netherlands after being held in Verden, Germany last year. The selection takes place over two observations, with the horses competing in the FEI Preliminary Programme on the first day and the Final Programme on the second day. It was a quite interesting environment for the young horses with the wind taking some of the concentration, but the skilled riders showed them off well anyway. Tomorrow is the second round, after which a list of horses to go to the second and final selection at Vilhelmsborg, Aarhus on 19-20 July will be announced.
The field of young horses aged 5-7 consisted of medal-winning mares, breeding stallions, championship finalists and former World Championship participants. A very exciting field including last year's World Champion of 5-year-olds, Downtown and this year's winner of the Danish Varmblood Young Horse Championship, Søbakkehus Maude. In general, Hesselhøj Donkey Boy is a well-represented stallion in the field, but Revolution, Franklin and Grand Galaxy Win also have several offspring.
See the start list of Friday:  https://online.equipe.com/da/class_sections/692151