It has truly been four amazing days at this year's Danish National Dressage Championships in Uggerhalne, hosting the championships for the 4th year in a row. We have seen Danish dressage at its very best with magnificent performances. Many professionals took part in the show, but we certainly greeted many new talents as well. And even though the weather was a bit windy on the first days, we ended with two sunny days and the crowning of the new Danish champions in U25, senior and para.
Katrine with two out of three wins
Katrine Kristensen placed second in the second round of the championship for grade I, II and III, but with two victories in the first and last division respectively, including an impressive 77.5% score in the final, Katrine could call herself the new Danish Champion on the gelding Gørklintgård's Quater by Quaterback/Blue Hors Don Schufro, while Karla Dyhm-Junge placed second on Miss Daisy.
Find the results of the Danish Dressage Championships grade I, II and III here: https://online.equipe.com/da/class_sections/695830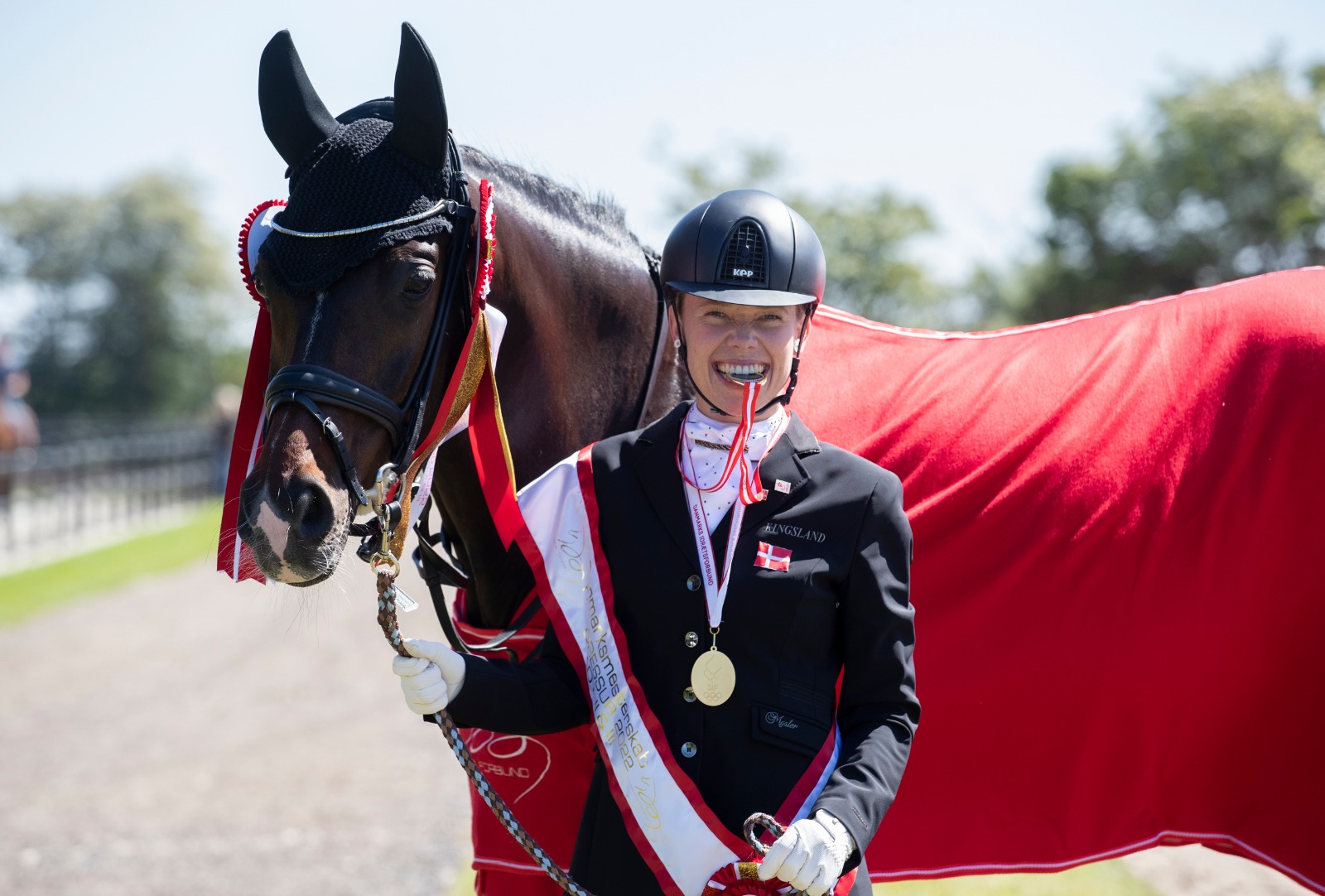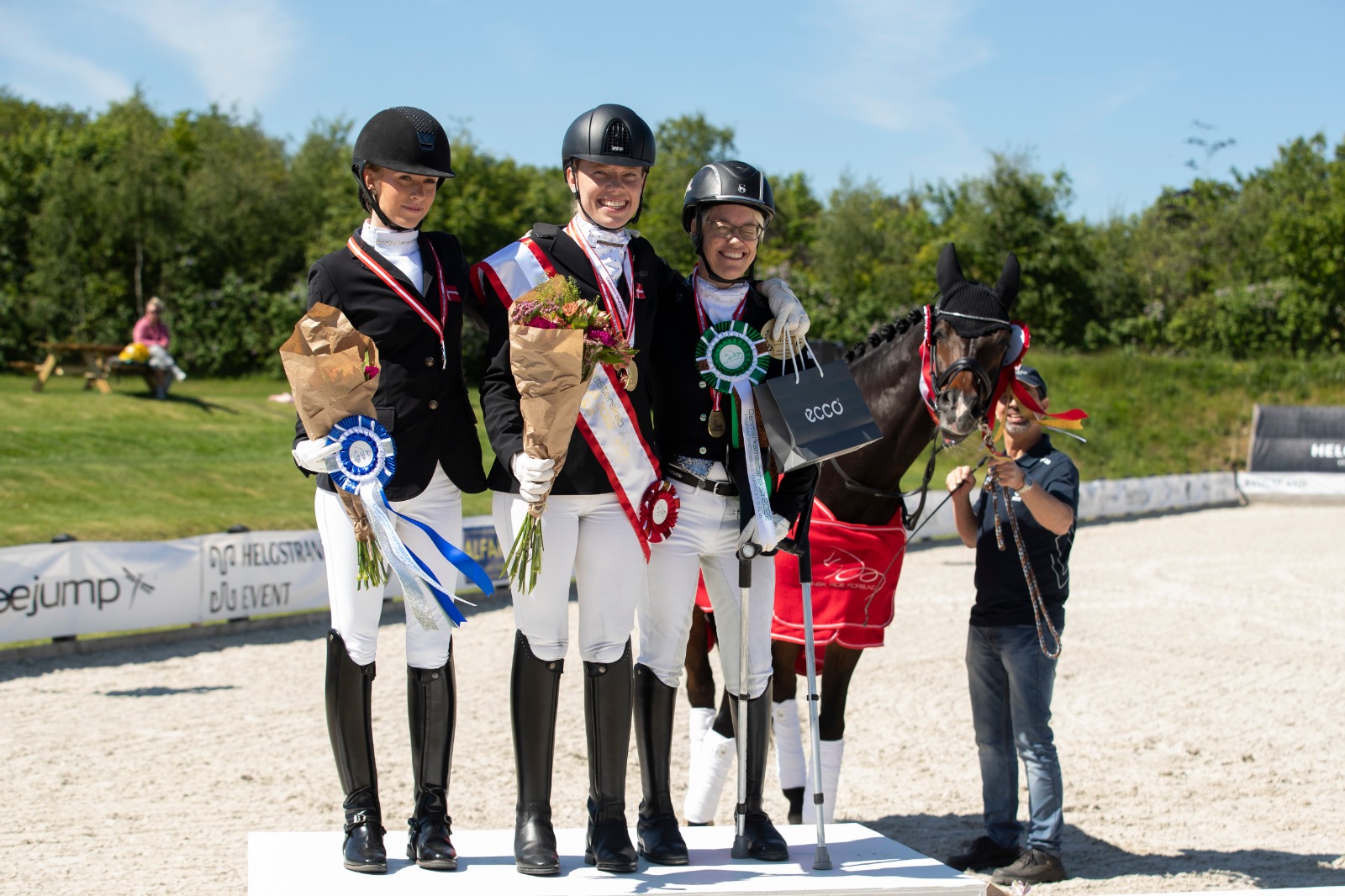 Excitement until the end
For para grade IV and V there was excitement to the very end as both Renee Igelski and Line Thorning Jørgensen deliverd some amazing performances. But even though Renee had to settle for a third place in the final, she took the victory overall. Renee rode the mare Beyond Dreams by Benetton Dream/Come Back II. The final was won by Line onboard Højgaarden's Zackzimo DWB by Blue Hors Zack/Blue Hors Don Schufro earning 73.917%, finishing in second place overall. Third place overall went to Anne Mette Hasselstrøm on Østergårdens Delight by De Noir/Weinberg, who had kept a great level in all her tests.
Find the results of the Danish Dressage Championships grade IV and V here: https://online.equipe.com/da/class_sections/695831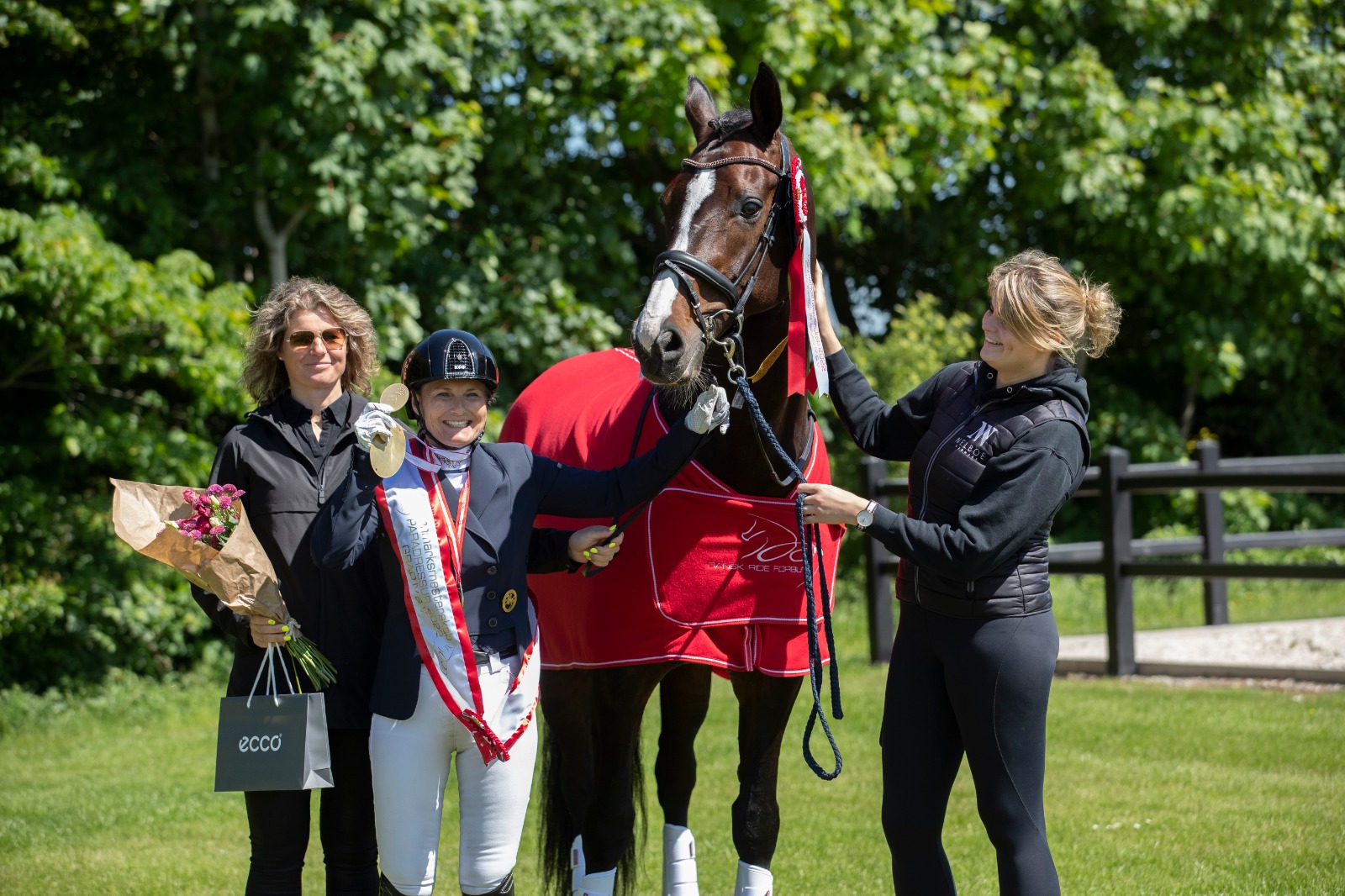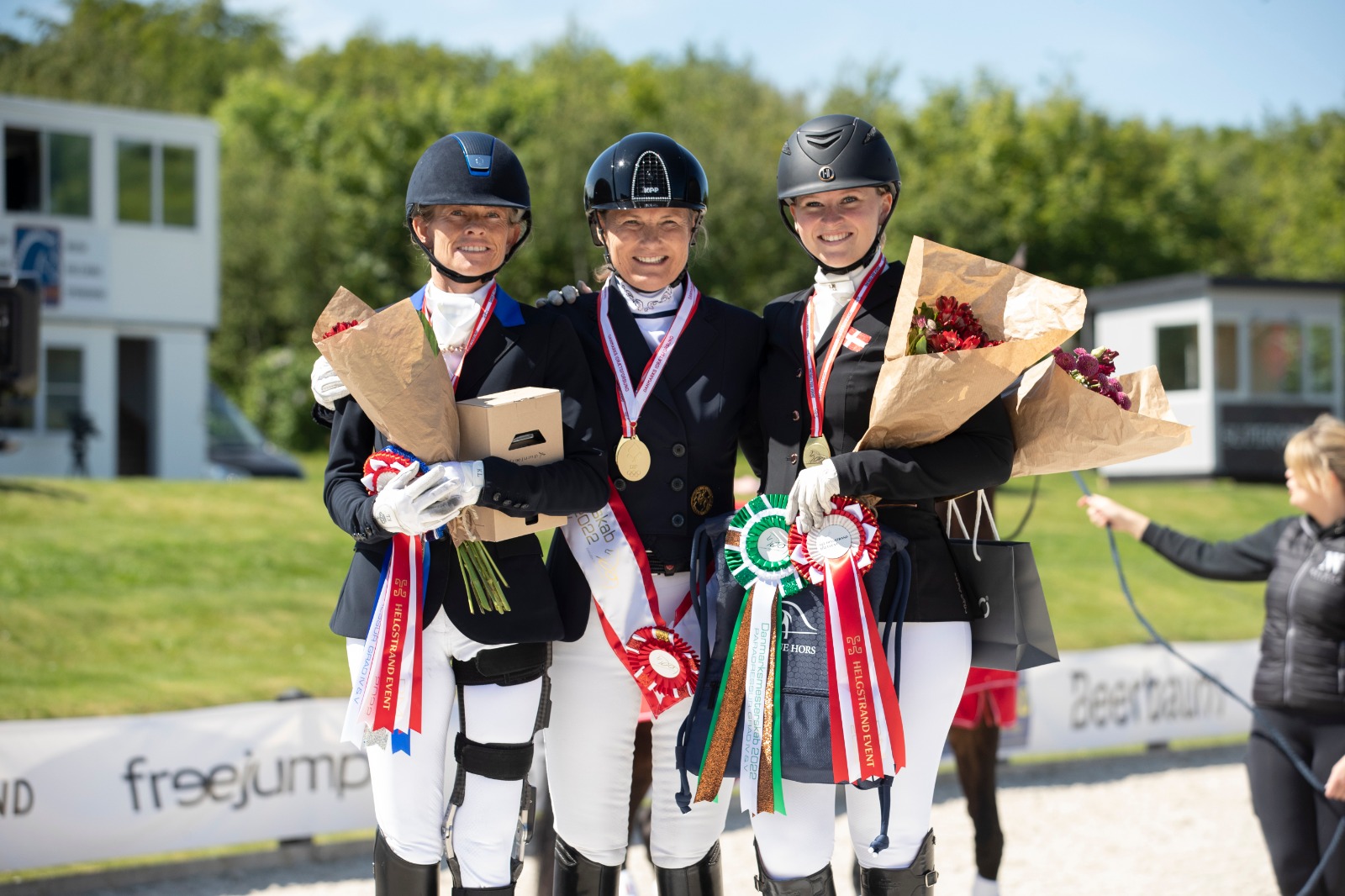 Josefine and Hønnerup's Driver unbeatable
She came, she saw, and she conquered - Josefine Hoffmann on the 18-year-old Hønnerup's Driver (Blue Hors Romanov/Blue Hors Don Schufro). Together they won both the preliminary class and the final, but it was not without close competition, as Karoline Rohmann was right behind her with Jakas don Louvre (Blue Hors Don Romantic/Lauries Crusador XX). In third place both today and overall, we have Laura Kristine Thorup on Blue Hors Veneziano (Vivaldi/Donnerhall).
Find the results of the U25 Danish Dressage Championships here: https://online.equipe.com/da/class_sections/696134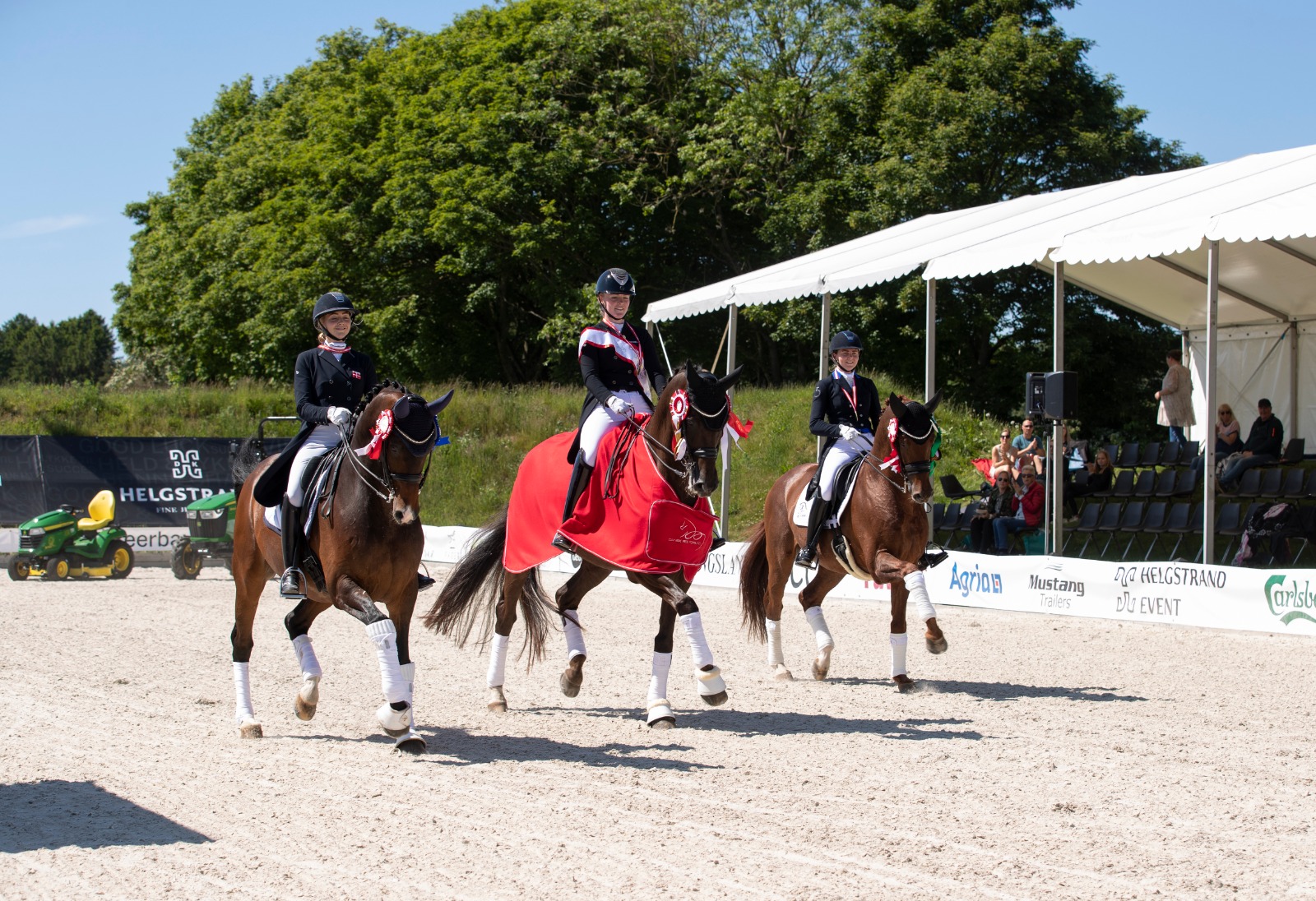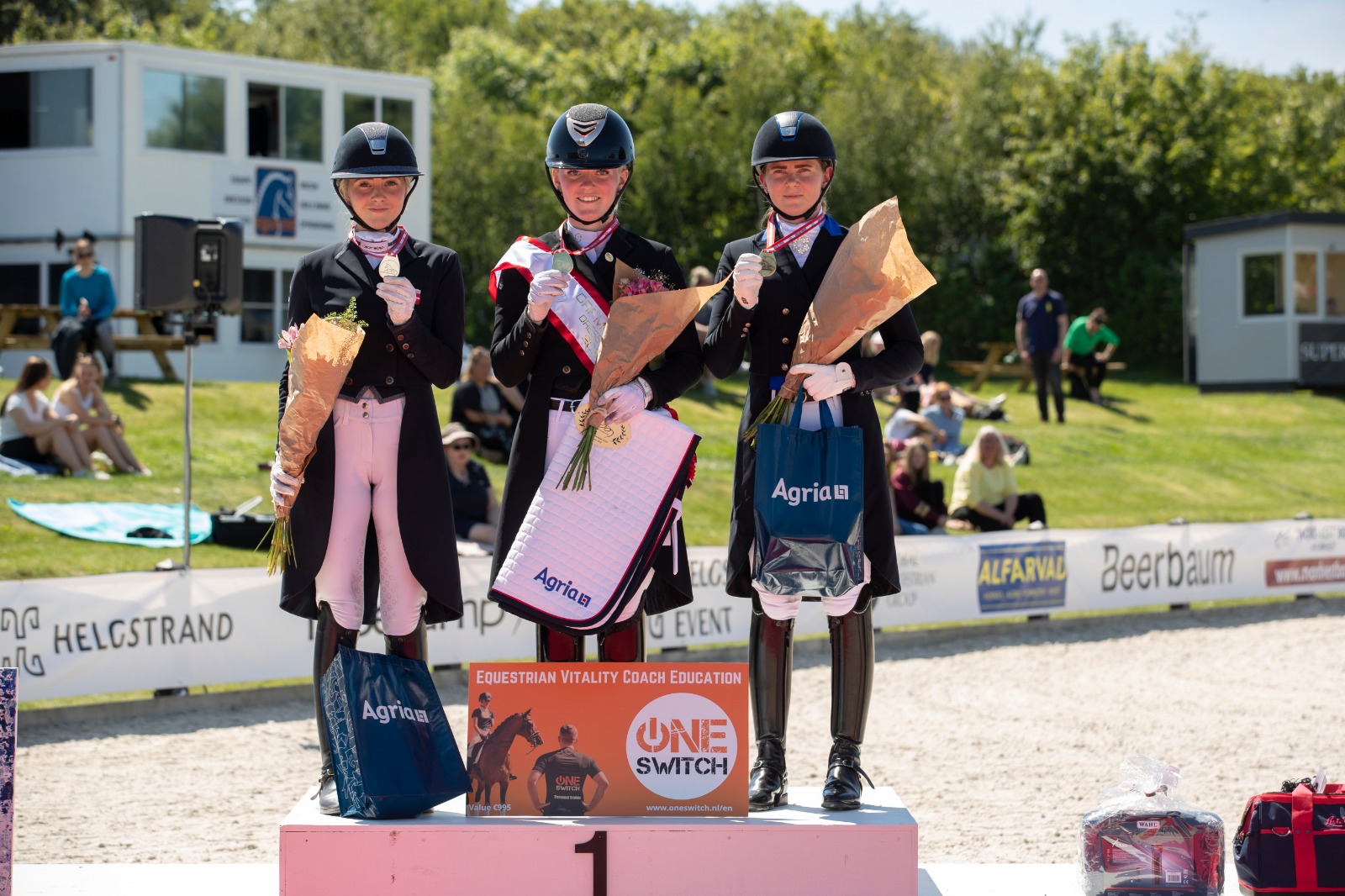 Cathrine marks her position as number one
Cathrine Laudrup-Dufour onboard the 10-year-old Vamos Amigos by Vitalis was unreachable. They put a lot of distance between themselves and their competitors in the Grand Prix and even more distance in the freestyle. They danced through their freestyle and were awarded several 10's, with the judges seeming as spellbound as the spectators. The afternoon at Helgstrand was magical with some of the best combinations, with Cathrine adding another gold medal to her collection. As seen many times before, the freestyle saw a bit of a turnaround at the top, with Nanna Skodborg Merrald retaining her second place on Blue Hors Zack, while Andreas Helgstrand and Queenpark's Wendy (Sezuan/Blue Hors Soprano) had to hand third place to Lone Bang Larsen on Thranegaarden's Rostov by Blue Hors Romanov followed by an excellent freestyle.
Find the results of the senior Danish Dressage Championship here: https://online.equipe.com/da/class_sections/696034  
The Grand Prix Special ended with a victory for Joachim Chr. Thomsen on Vichy Pax, while second place went to Betina Jæger with Fogo de Lyw.
Find the results of the Grand Prix Special here: https://online.equipe.com/da/class_sections/696194   
Congratulations to the new Danish Champions! And a huge thank you to the riders, spectators, exhibitors, sponsors and volunteers. Without the tremendous support we could not host a show like this - we are already looking forward to welcoming you again next year - see you in 2023!