It was indeed a day of great riding. The para riders were among the first to enter the arena. For grade I, II and III, Katrine Kristensen on Gørklindtgård's Quater took the win scoring 72.576%. The field of grade I-III only consisted of three riders, but this number changed to 13 in the class of grade IV and V riders. Renee Igelski on the mare Beyond Dreams won the first round of grade IV and V scoring 71.125%, runner-up Nicole Johnsen and Moromax took 2nd with 70.039%, and third place went to Camilla D. F. Christensen and Fürsten with 69.806%.
See the results of grade I, II and III here:
https://online.equipe.com/da/class_sections/689314 
See the results of grade IV and V here:
https://online.equipe.com/da/class_sections/689315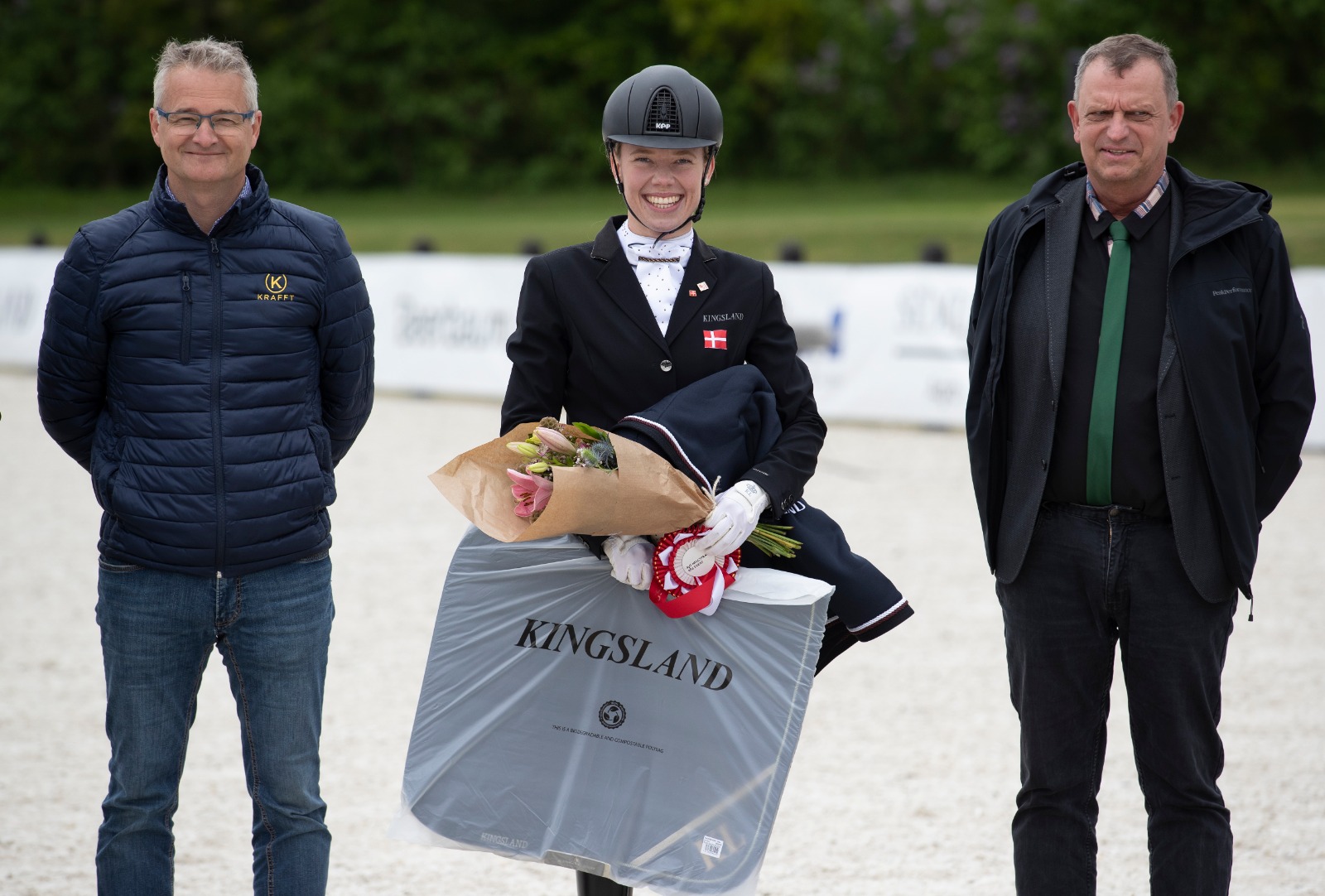 Impressive field of young horses
It was great to see the young talents in the selection for the prestigious World Championship for young horses performing again. A total of 24 horses went through to the second and final selection, which will take place on 19-20 July at Vilhelmsborg, Denmark. Denmark is allowed to enter a total of four combinations for each age group, and we are looking very much forward to see the combinations who will represent Denmark later this summer. Traditionally, the field of 5-year-olds is the largest, which include this year's winner at the Danish Warmblood Young Horse Championship, Søbakkehus Maude, as well as Lyngbjerg's St. Paris, who finished 2nd. In addition, we have two amazing offspring from the same breeder, Maria von Rosing; Rally and Blaze von Rosing, both sired by Revolution. In the field of 6-year-olds, Hesselhøj Donkey Boy is a name to remember, as he is the sire of no less than 5 out of the 8 young horses selected, including last year's winner of 5-year-olds, Downtown, who particularly showed his qualities in today's final programme. The smaller field of 7-year-olds all showed great form and we look forward to seeing them at the final selection.
Find the long list of combinations for the final selection here: https://www.ridehesten.com/nyheder/de-er-videre-i-uvm-udtagelsen/94331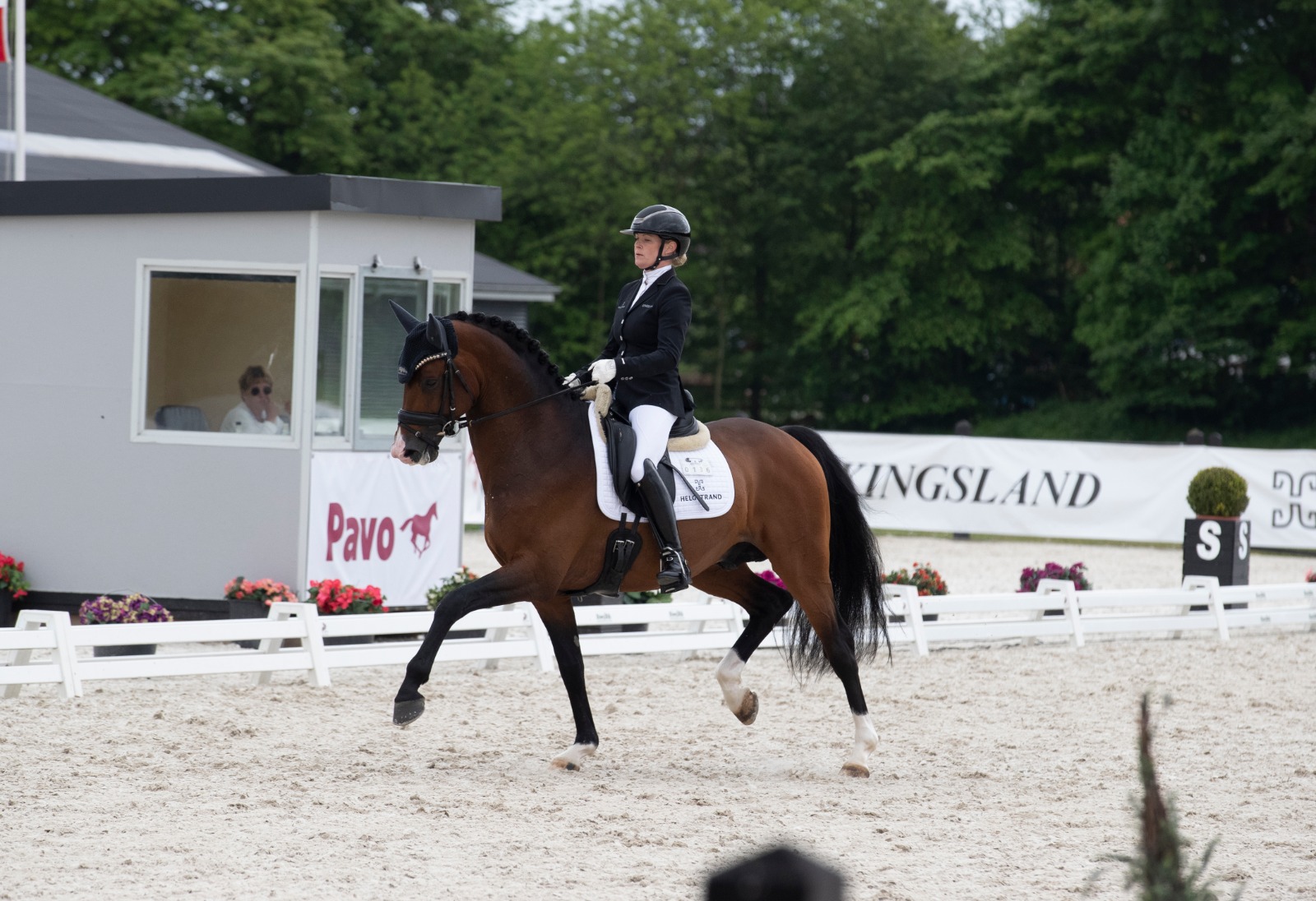 Anne-Mette wins the Bundgaard x Trolle Cup
The second qualifier out of 4 in the much-coveted Bundgaard x Trolle Cup takes place this weekend at Helgstrand Event. Riders and horses were in top form and only a few percentage points separated the top placements. The two colleagues, Anne-Mette Strandby Hansen and Marianne Helgstrand from Helgstrand Dressage were in the lead with respectively 71.053% and a win for Anne-Mette onboard Eternity and 70.439% for Marianne on Elverhøjs Raccolto, who rode yesterday's Prix St. Georges to a win. Third place went to Anne-Marie Hosbond on Scarlett, who scored 69.649%.
- Eternity was really fresh in the warm-up and that surprised me a bit. He was a bit behind the vertical in the trot, but other than that, I thought I had a really good test. It's his very first Intermediare I and only his second show this season. I'm so happy to be able to train this horse and enjoy every ride. Tomorrow it's the freestyle, and we are really looking forward to that, says Anne-Mette Strandby Hansen.
See the start list of the freestyle here: https://online.equipe.com/da/class_sections/695556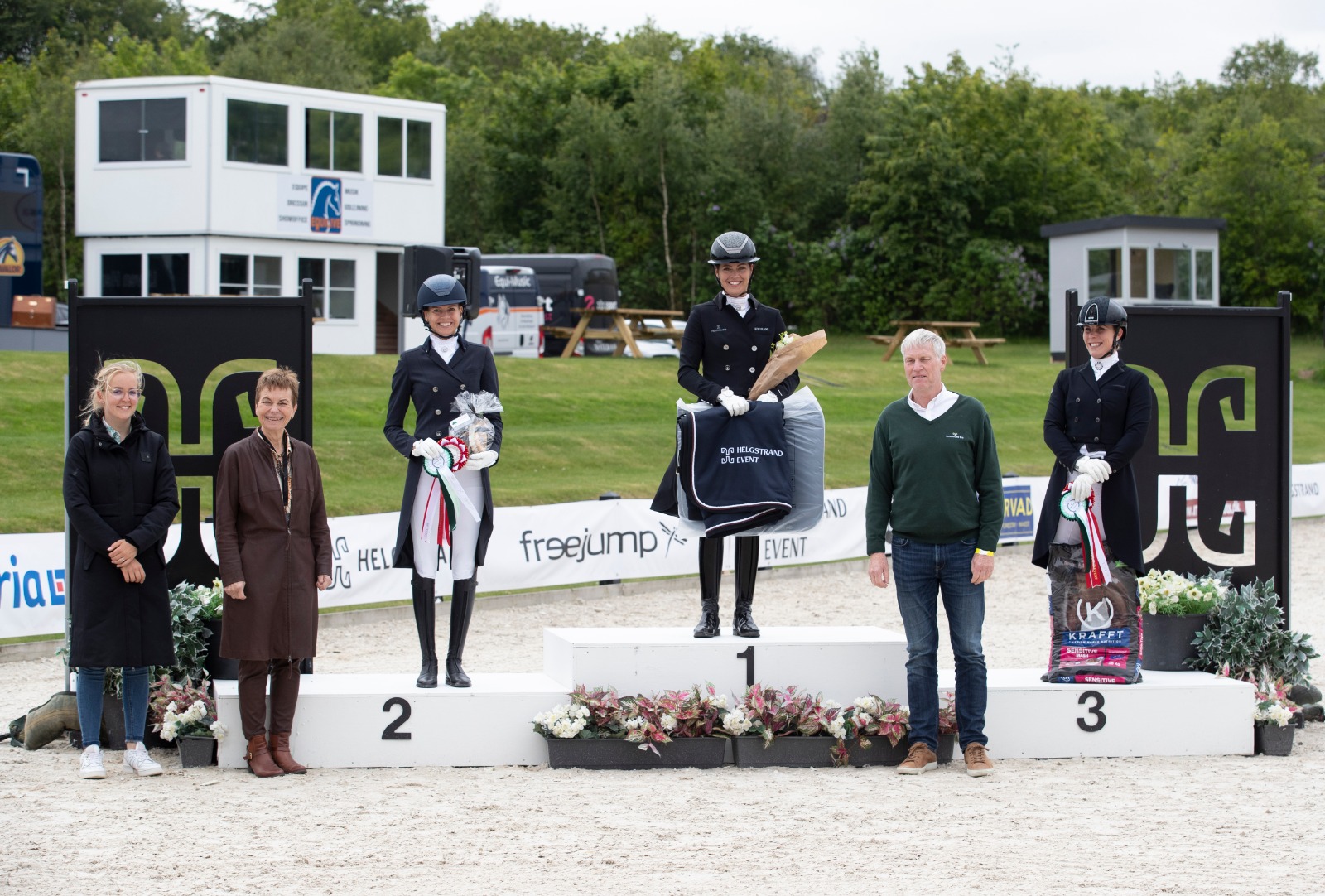 Josefine takes the lead in the U25
Today, Josefine Hoffmann did a great job onboard the 18-year-old Hønnerup's Driver scoring 72.465% in the Agria DRF Championship for U25 at her fourth Danish Championship. Karoline Rohmann took second place with Jakas don Louvre earning 71.465%, while Laura Kristine Thorup and Blue Hors Veneziano finished third with 70.419%. The field was mixed of master student riders, championship debutants and more experienced riders, who set a great level. But nothing is decided yet - we look forward to the second-round of the Danish National Championships on Sunday, where the Danish champion for this year's U25 will be found.
- I was quite busy today because he had so much energy. But I had a good feeling all the way through and enjoyed riding him despite a minor error in the walk. Sunday is the final, so tomorrow he just needs an easy ride so we are ready, says Josefine Hoffmann after today's ride.